Recreational Wellness
mountain musings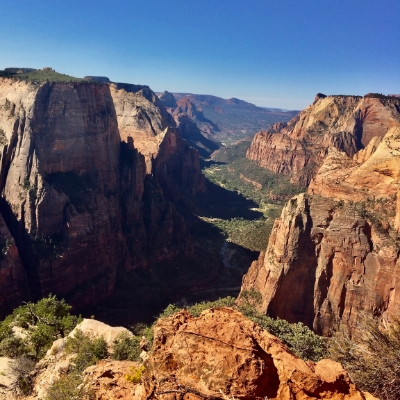 Over the past few months, my work has led me to observe the power of being outside in building people up. Most recently I have been working at a ropes course where we take groups through a variety of obstacles designed to push them to think outside of the box and become united in their problem-solving. Each time I see a group empowered to accomplish something difficult it inspires me as much as it inspires those I am with. These challenges are designed to push people, but they are all possible to complete. What I have found most interesting is that there is not one solution to each problem, but rather many directions that groups can go to complete their goal. It is the same in each of our lives. Every day we experience difficulties that push us to work harder than ever or change the way that we have worked in the past. The purpose of the ropes course that I am at is to provide a safe place to learn these problem-solving skills, overcome fears, and leave being more prepared to face the problems of daily life.
Not everyone will have an opportunity to go to a facilitated problem-solving ropes course, though it would be fantastic if they could. This being said, there are so many ways to learn these skills through a variety of different recreational activities. If you have read any of my activity-based introductory articles then you know that I am very passionate about spending time outside and having as many adventures as possible. On each adventure, there is a skill that can be developed or a lesson that can be learned. It is up to us to learn how to identify and grab onto those things. In helping you learn how to accomplish this I'll go ahead and share a few different experiences that I have had in the backcountry and lessons I've learned from them.
Exploring Zion for the first time #
One of my most memorable experiences is centered around my introduction to Zion National Park which has become one of my favorite places in the world. It all started when my Dad got another Grand Canyon trip to guide in August 2017. He had been guiding rafts down there for over 20 years but hadn't taken a trip down for several years because of how busy our summers were. As a guide, he was able to take my brother and me on a motor trip as the designated "swampers". In other words, we were free labor but also got a free ride down the Grand Canyon which was totally worth it.
The trip was divided into two parts, a 6-day upper section and a 2 day lower section. The upper was under-booked so both my brother and I were able to join, but the lower section was over-booked so I had to be helicoptered out as new people were helicoptered in. Eventually, I got back to my car and drove up through Kanab and over to the campsite I had booked on the east side of Zion. I spent two nights there and got to explore several parts of the park. My first hike was out to Observation Point which I immediately fell in love with. In my opinion, the view is superior to Angel's Landing and has only a fraction of the people.
This trip was particularly meaningful to me because it was the first time I had really been on my own. I was still in High School at this time and this experience helped me get a taste of full responsibility. I was fully in charge of everything I did and anywhere I went. This adventure also helped me gain a greater appreciation for just how many unique places there are in the world and how important it is to preserve them. Both the Grand Canyon and Zion are absolutely incredible places, there is nowhere quite like them in the world.
In Zion especially, however, I saw the effects of overcrowding and excessive human impact. From then until now I have continued to see the negative impact of people not showing the respect that these beautiful places deserve. The wildlife, squirrels especially, are no longer very wild. Hikers are creating their own trails, destroying ecosystems as plants and fragile cryptobiotic soils are trodden down. The most important impact that exploring on my own had on me was realizing that alone, I was just as vulnerable as the life in these parks. I connected with these places and that connection has stayed with me ever since.
Searching for boulders #
Over the past year, I have done more and more climbing outside. There are so many things I love about this. I get to spend more time outside breathing the fresh air, it takes me to beautiful locations, and once I got my own gear it became free! The hard part about climbing outside, however, is finding the routes or boulders that I want to climb. There have been so many times where I look up a new spot to go climbing but most of the time that I had to climb–or sometimes all of it–was taken up by searching for the location. This can be very frustrating, but there are things that can be gained from these experiences.
First off, it makes a better story. It's not very exciting to tell about the time that you went walking for 10 minutes, found the crag, and climbed for a few hours. Sure the routes may have been cool, but there's no drama. Compare that to the time you went climbing but to get to the routes you spent 30+ minutes hiking straight up a mountain bushwhacking through a half-mile of scrub oak. (I have had experiences similar to this) This shows dedication to your sport and that you're in it no matter what it takes. Patience is another thing that can be gained from suffering to get to whatever your destination may be. That's something that is crucial to learn, and where better to improve than out in the wilderness where nobody can hear your cries of frustration.
Union Falls backpacking #
One final experience comes in two parts. I've briefly mentioned this experience in another article, but here is the complete story. It all began when I was 14 years old and going on a campout with my scout troop. The point of the campout was to go on a 20-mile hike for the Hiking merit badge. We were all pretty excited, though a little apprehensive, about going on an expedition as long as this. Everything was going fine–dinner was good, camp was all set up, and we were all enjoying ourselves–until the rain started. It was right after the sun had set so we were preparing for bed anyway and didn't think much of it. We didn't think much of it, that is until the next morning and the rain was still coming steadily down.
We prepared a quick breakfast, probably oatmeal or something, and started our hike. After several miles, we realized that the rain was not going to stop anytime soon. The trail had flooded so we were hiking in a stream the whole time, plus we had three river crossings. The river crossings weren't that big of a deal because we were already thoroughly soaked, but it did make things even more interesting. When we finally got to our destination, Union Falls which is the second tallest waterfall in Yellowstone National Park, we honestly weren't that impressed. Everyone was wet, cold, and tired. I know that I just wanted to get home and get dry and didn't care all that much about seeing any waterfalls, as large as it may be. In the end, we finished our hike and everyone received the merit badge; plus we all had quite the story to tell.
Fast forward 7 years to just recently when I had the opportunity to go back to Union Falls, this time with my family and some friends. We had been planning it as a backpacking trip for a couple months and were hoping for it to be a clear trip. A week before we were supposed to go it looked cloudy, but there was no forecast for precipitation. As we kept getting closer the weather kept getting worse. The morning we left it had started drizzling at home but we hoped that maybe it wasn't raining on the trail.
Our hopes were crushed as we got to the trailhead and found that the trail was just starting to flood. I began to have flashbacks from all those years ago of my first time at this place (and maybe a little bit of PTSD). We were all determined to go backpacking, however, so we pressed onward. I wore my chacos throughout the whole trip because of how wet the trails were. Once we finally got to camp we quickly set up tents and a large rainfly to cook and eat under. Everyone changed into semi-dry clothing and tried to get warm. The food was great, we had packed heavy so we could enjoy some gourmet backcountry meals. Throughout the trip, we had cake, cinnamon rolls, egg casserole, and pad thai among other things. That was honestly what kept us going. We all retired early to the sound of rain splattering off of our tents.
As the sun began to rise the rain stopped for about half an hour before resuming. The forecast predicted the rain to stop sometime in the afternoon, but several members of our group decided that they didn't want to risk spending another whole day hiking in the rain so they went back early. Those of us who stayed started hiking to the falls right before they left. After this experience, I have decided that hiking in the rain isn't so bad because as you move you generate heat. It is when you stop moving, such as hanging around camp, that things start getting a little miserable. We got to the falls right around lunchtime so we spent some time eating and enjoying the view. Being older and more tolerant to painful experiences I was actually able to appreciate the grandeur of Union Falls this time. It is an impressive waterfall, even when it is raining. Once we got back to camp we packed up and hiked back to the car and drove home.
Each of these experiences that I've shared taught me something and helped shape me into who I am today. Every adventure you have has the potential to do the same for you. Seek out ways to improve yourself each time you go out into the backcountry, it can turn even the most difficult times into something worthwhile.